Yes, it's that time of year again. Here in the Seattle area fireworks are a big business – private individuals as well as communities set off fireworks on and near the 4th. How do your pets react to fireworks?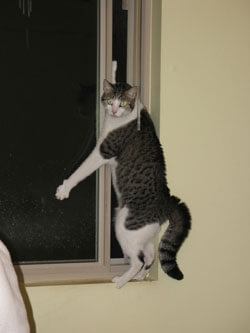 Many pets become mildly to extremely nervous and stressed with sudden noises in general and with fireworks in particular.
Remember – even if you can't hear any fireworks going off in your neighborhood, your dog, cat and/or horse can hear fireworks far in the distance that you can not.
Fortunately, there are products available to support pets of all sizes and shapes during this stressful time. Here are some options on the market that we carry in our clinic:
HomeoPet® Storm Stress and Anxiety TFLN
Composure SoftChews by Vetri-Science® – A calming formula providing C3™ *, L-Theanine and Thiamine to support balanced behavior. *C3™: Colostrum Calming Complex is isolated from colostrum proteins which have a calming effect. It is best to start giving Composure in advance, well before expected fireworks, to give it time to build up in your pet's system.
Harmonease® Chewable Tablets – Composed of a natural blend of extracts of Magnolia officinalis and Phellodendron amurense (one of the fundamental herbs used in Traditional Chinese Medicine). The tablets help dogs overcome their stress during noisy and fearful times. It is best to start giving Harmonease® in advance, well before expected fireworks, to give it time to build up in your pet's system.
Thundershirt – Uses gentle, constant pressure to calm your dog, effectively aiding anxiety, fearfulness, barking and more.
Adaptil® For dogs only. A synthetic copy of the natural canine appeasing pheromone proven to help support dogs in a range of stressful situations including fireworks. This product is available as a collar, spray or diffuser.
Feliway – For cats only. A synthetic copy of the feline facial pheromone, used by cats to mark their territory as safe and secure. Feliway comes in a spray or diffuser
If you are not in the Pacific Northwest, your vet may carry some or all of these products. If you're unsure what might be most helpful for your pet, call your vet to discuss options.
Pets, Thunderstorms and Fireworks – An article with information, safety tips and links to additional articles about pets and fireworks.