Do you think "Ew, ick!" when your tabby exhales as he comes close to your face to look in your eyes? Does your schnauzer-mix have "dog breath"? Both are good indicators that a dental check-up and cleaning for your pet is a wise idea.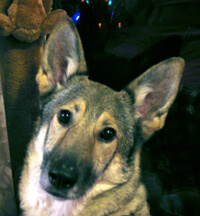 February is National Pet Dental Health Month. We've talked about ways you can keep your dog's teeth as clean as possible at home in our post on Dry Food and Dog Teeth. Today, Dr. Frank and one of our veterinary technicians answer questions about having a professional dental cleaning for your cat or dog done at your veterinarian's clinic or hospital – the benefits, how it is done and other questions about dentals.
We love to go to the dentist ourselves, don't we? Yep, one of our favorite things to do. But, admit it – Doesn't your mouth feel SO much better after the hygienist cleans your teeth? Exceedingly better than after you brush your teeth, no matter how fancy a toothbrush you have.
Consider giving your pet the gift of fresh breath and super-clean teeth by taking him to your vet for a dental cleaning in February.
Q: What are the benefits of a dental cleaning?
Dr. Frank: I'd say the top three benefits of a clinic dental cleaning are:
Fresher breath!
Healthier body by preventing serious disease or illness that can start in the mouth
The opportunity for your vet to thoroughly check all of your pet's teeth, which can save teeth. This is difficult to do when the pet is awake and can be particularly hard to do with wide-awake cats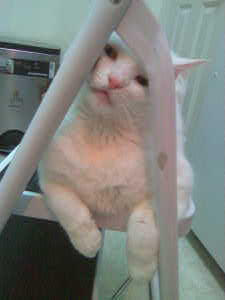 Q: What are the risks of not getting a dental cleaning?
Dr. Frank: Infections in the gums such as gingivitis and periodontal disease (disease affecting the tooth or jaw) can lead to a variety of seemingly unrelated health issues such as liver disease, diabetes, kidney disease or other life-threatening conditions. And let's not forget the obvious – undetected problems with the teeth or gums can lead to tooth loss.
Q: What does a dental cleaning entail?
Dr. Frank: In our clinic, as in most veterinary practices, our veterinary technicians perform dental cleaning procedures. So we decided to ask Kelsey Pritchett*, one of our technicians, to answer this question. Any problems the technician finds during the cleaning is brought to my attention.
Kelsey: Ideally dental cleanings on dogs and cats are preventative maintenance just as with people. The mouth is the doorway to our internal organs and if it is unhealthy it sets the stage for the rest of the body to follow suit. A thorough dental cleaning is one way to prevent oral disease that could contribute to other diseases down the road.
A meticulous dental cleaning is done in our practice under general anesthesia. That way we are able to really see all surfaces of the teeth and inspect them well for any signs of disease.
We remove the large bulks of tartar and then, with an ultrasonic scaler and a hand scaler, we clean the crown of the tooth. We then measure the sulcus depth, where the gums meet the tooth, to check for any pockets that can house bacteria. We make a note of the general condition of the gums and if there are any abnormal teeth.
If there are deep pockets that cannot be remedied or if a tooth is loose which means that the disease process has gone too far for us to save the tooth, we, with the owner's permission, remove the diseased tooth.
We finish our cleaning by polishing all surfaces of all of the teeth. This is a very important step in the process as it allows us to smooth out any grooves in the enamel of the teeth to prevent bacteria and tartar build up in those areas.
We make a detailed report of any teeth that were abnormal and what was done about them so that next time we go in to clean the pet's mouth, we can monitor areas we were previously concerned about.
Dr. Frank: We put the pet on IV fluids during the procedure to help flush anesthetic out of their system and we give the pet a supportive vitamin cocktail. We also suggest to our clients the use of plant botanicals after the cleaning to help decrease plaque and tartar buildup.
Q: Some holistic vet clinics advertise they do teeth cleanings with no anesthetic? Do you do that in your clinic? If not, why not?
Dr. Frank: No, we do not. In our area, this is a 3rd party service which only offers the service at one location per zip code. It is important to realize that the cleaning is not performed by the your pet's regular doctor or the doctor's staff, it is performed by people who may not have seen your pet before.
Although dental cleaning without anesthetic can have some benefits compared to nothing at all, without anesthetic, meticulous checking of each tooth and the gums can be extremely difficult, as mentioned above.
In our practice we have seen a few cases of pets needing teeth extracted within months of having the dental service without anesthetic performed. In our clinic, if the dog or cat has gingivitis that is not too severe, we can even apply a time-release antibiotic in the gumline, eliminating the need for the owner to give follow-up medication at home.
Q: How often should my pet get his teeth cleaned?
Dr. Frank: It is important to have your pet's teeth checked by your vet at least annually, every 6 months for older pets. I do this (as do most vets) as part of the annual or 6 month wellness exam we encourage our clients to schedule for each pet. At that exam your vet will recommend a dental cleaning if he or she sees a need.
Whether or not your dog or cat will need a dental annually, semi-annually or not at all depends on a number of factors including breed, diet and genetics.
———————————————————————
Click Here for an AVMA video with instructions on teaching a dog or cat to accept tooth brushing. The vet also explains the risks of periodontal disease in pets.